Tips For Choosing a Natural-Looking Wig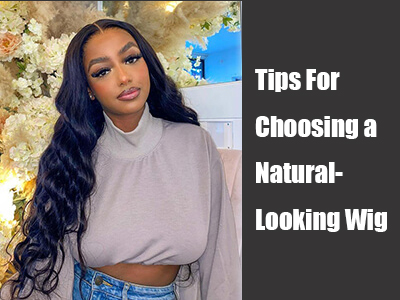 If you want to get fuller and longer hair immediately, or want to change your hair color without dyeing your own natural hair,or want to try out an alter ego, you may choose to install and wear a wig. But there are plenty types of wigs selling in the market, from synthetic to real human hair wig, from full lace wig to lace closure or frontal wig, various choices make the inexperienced wig lover feel daunting and frustrated. 
To unveil the mistery of process and help you find the most natural-looking wig, Beaudiva offered you some practical advice and hopefully they can help you a lot.
Opt For The Wig Made of Human Hair
Human hair provides the most natural look. Because it's real, it falls and swings the same way natural hair does. Plus, it can be styled—blow dried, curled, or ironed—like business as usual.
The are many kinds of 100% real human hair wigs with different lace design and lace size from Beaudiva online store, like 4x4, 5x5, 13x4, 13x6, headband wig, hand tied and machine made wigs, etc. If you like wearing a lace frontal wig with a long thin piece of lace in the front part of the head, you can choose 13x4 or 13x6 lace front wig. If you prefer smaller lace part, then 4x4 or 5x5 would be your best choice.However, Beaudiva wigs are pretty versatile, and they can satisfy your particular needs very well.
It should also be LACE wig.
As we all know, lace is a kind of material which are made of doubled number of mesh holes, which are more denser, natural and take on a human scalp-like look.Both full lace and lace front wigs have a very natural appearance.The wig cap would be more breathable if it is made of lace.For the most flexibility—the ability to part the wig in multiple ways and wear updos—human hair lace wig is the best option.
To maintain it, wash the wig gently and store it properly.
Compared with artificial hair, human hair wig can have a really long lifespan for certain years(about five times longer than artificial hair) if taken care of correctly. Proper care is vital to prolong a wig's usable life. You can wash your wig every six to eight wears using a gentle sulfate-free shampoo.
Hope you can find your most favorite natural--looking wig from Beaudiva, and enjoy your shopping!!!