Basic Knowledge about Lace Front Wig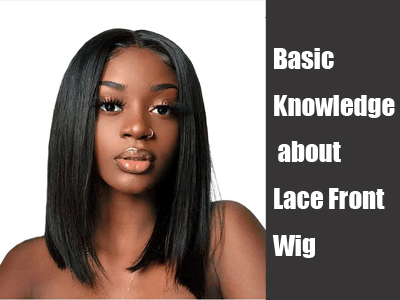 Some knowledge about lace front wigs all wig wearers must know
1 What Is a Lace Front Wig
Actually the name already gave the answer to this common question. Lace front hair wigs use a sheer lace addition to imitate a soft, natural hairline for the wig wearer instead of a sudden, abrupt hairline. Lace front wigs are perfect choices for people who might be anxious and worried about wearing a wig for the first time, for fear of it looking too bold or unnatural. Instead, lace front wigs are very beginner-friendly and offer a solution that melts into the natural hairline which gives the wearer a perfect natural look. As such, they have been evolving a lot in the wig landscape over recent years and are now so popular that celebrities such as Beyoncé regularly sport them for events and activities.
2 How Are Lace Front Wigs Made
Lace front wigs are made by securing a small, flesh-colored lace mesh panel to the front of the wig cap and then hand-knotting fine hairs through the holes of the lace so they can move freely like natural hair. This lace panel blends in with the skin and match all skin tone perfectly so all you can see is the wispy baby hairs at the front. The rest of the wig cap is made from a stronger, more durable material as lace can be susceptible to tearing and wouldn't make for a strong full cap. Any excess lace from the panel is trimmed down to follow the shape of the natural hairline with the small sewn hairs emulating 'baby hairs' on the hairline.
Beaudiva has got various different kinds of lace front wigs, categorized by lace design and lace size which you can choose freely according to what you prefer.
Enjoy your shopping in Beaudiva mall and have a nice day!!!