Guides to Buying Your First Human Hair Wig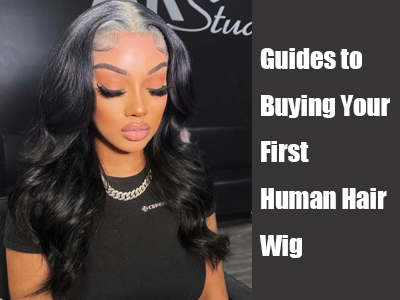 There's no denying that buying a human hair wig for the first time is overwhelming and there are loads of choices you have to make, different colors, lengths and styles, and even cap construction and lace design. A perfect wig naturally reflects your personality and beauty.But it could  be daunting to sort through the endless variations to find the perfect wig.
However, hair knowledge is power,with which you can find your favorite wigs that suit you the best.
1. Cap Construction
Cap Construction can have a significant impact on your comfort, styling preferences, and how you prefer your hairline and part to look.
Lace Front
A lace front cap has a piece of ventilated lace across the forehead that creates a seamless hairline. Ventilation is a process done by hand where 1-3 pieces of hair are tied in a knot around the lace.
The lace is translucent to blend with your natural skin tone easily.
The hairline directs hair away from the face for a more natural look.
Depending on the hair quality and craftsmanship, the knots on the front hairline can be virtually undetectable or somewhat noticeable.
2. Length
Short wigs  - These frame the face and lay at the nape of the neck.
Medium length wigs - the length generally falls around the shoulders.
Long wigs - These fall past the shoulders and drape around the mid-back to about 16" or more.
3. Measure Your Head Size
It's your time to shine wearing Beaudiva Hair!