6 Steps To Create Baby Hair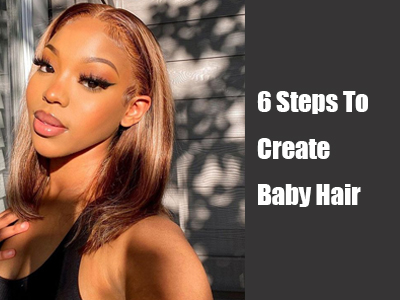 1. Cut the Lace
When you buy and get a new lace wig, you should trim the excess lace on the wig first. You should keep the lace a little bit first because cutting too much lace can damage the wig and affect your wear. Be careful when cutting, especially near the hairline. 
2. Separate the baby hair apart
Fix the wig on the wig holder or wear it on the head, take out the front part with a mouse tail comb, and cut off the baby hair. And then separate this small part from the rest. Fix your hair with a clip.
3. Wet Baby Hair
The baby hair needs to be totally wetted. You can spray the spray bottle filled with water along the hairline. If you don't have a spray bottle, just pour water on the hairline.
4. Comb the Hair
Brush your short hair. If you want to cross the hairline, start with an inch in the center of your forehead. If you just want your baby hair to stay around your temples, start from there.
5. Cut the Baby Hair
Gently pull part of the hair forward and hold the beauty razor with the other hand. First, trim your hair to the tip of your nose. It is wise to keep the tendril at this length for a longer time. Finally, pull some baby short hair forward and trim it.
6. Set Your Baby Hair Using a Hairspray
Gently comb the baby hair. You can also use edge control gel or hair styling cream to shape them.
Wearing a wig which has baby hair can make your look much more natural and attractive. So be careful when trimming your lace and do the baby hair cutting. Prepare the necessary tools and other gadgets before cutting. Since the wig sold in Beaudiva.com are all beginner friendly and with pre-made baby hair, you don't need to worry about it. 
Thanks for reading and enjoy your shopping!